Section
Crux - Southern Cross
by Alejandro Tombolini
Introduction
Image of Ezequiel Bellocchio. Highlight dark structures in a populated star field. Main notes: SubframeSelector and Blink to obtain a correct integrated image. Stretch with MaskedStretch - Saturation - Contrast with ATrousWaveletTransform. Date: March 2014.
Image Data
Object

: Crux

Camera

: Canon 60Da

Telescope

: Canon EF - Focal Length 50 mm - f/1.8 @ f5.6

Images

: 27 x 5 minutes @ ISO 1600

Total Time

: 2 hours 15 minutes

Processing Software

: PixInsight

Comments

: From Merlo - San Luis - Argentina

Author

: Ezequiel Bellocchio
Processing
What if your integration looks like this?:
That mean that your images were not calibrated correctly. Why?
If you are using a MasterDark that differs too much from lights in exposure time and temperature AND if you did not have choosen a correct reference frame for integration could be a good cause.
For this example, the selected MasterDark was doble the time (600 seconds) and the same temperature and it was choosen as reference image for registration and integration a random image from the midle of the set.
The new integration was made with a MasterDark shorter than the lights (240 seconds) and the reference images was carefully selected using SubframeSelector script.
Analyzing the bad calibrated images with Blink tool can be seen that hot pixels were subtracted apparentely in excess and after registration and integration this will generate lines.
Analizing the correctly calibrated images with Blink tool can be seen that hot pixels where substracted correctly and after registration and integration this will generate a smooth background.
With DynamicBackfroundExtraction subtract some gradients on the image.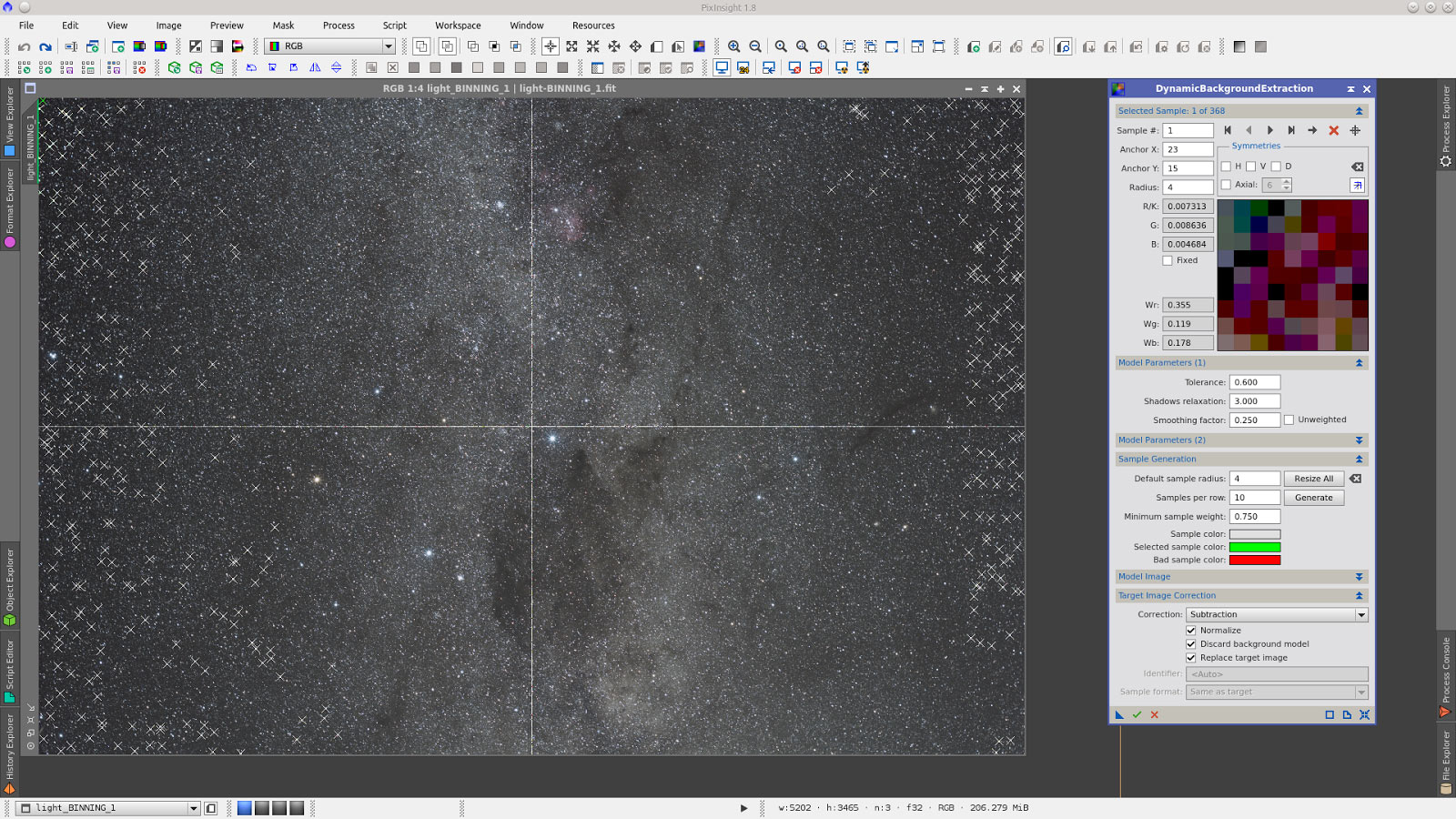 As it is a very populated star field, generate nine little previews and join them all using PreviewAgregator Script to generate a new image to be used as Reference image in BackgroundNeutralization tool.
Using the same previews generate again the Agregated image to be used as Reference Image in Background Reference for ColorCalibration and the image as Reference image for White Reference. Note that I have disabled Structure Detection.
Generate the PSF to be used with Deconvolution.
Generate a mask to protect the cores of big stars during Deconvolution process. For this I will delete small stars in a clone of the image.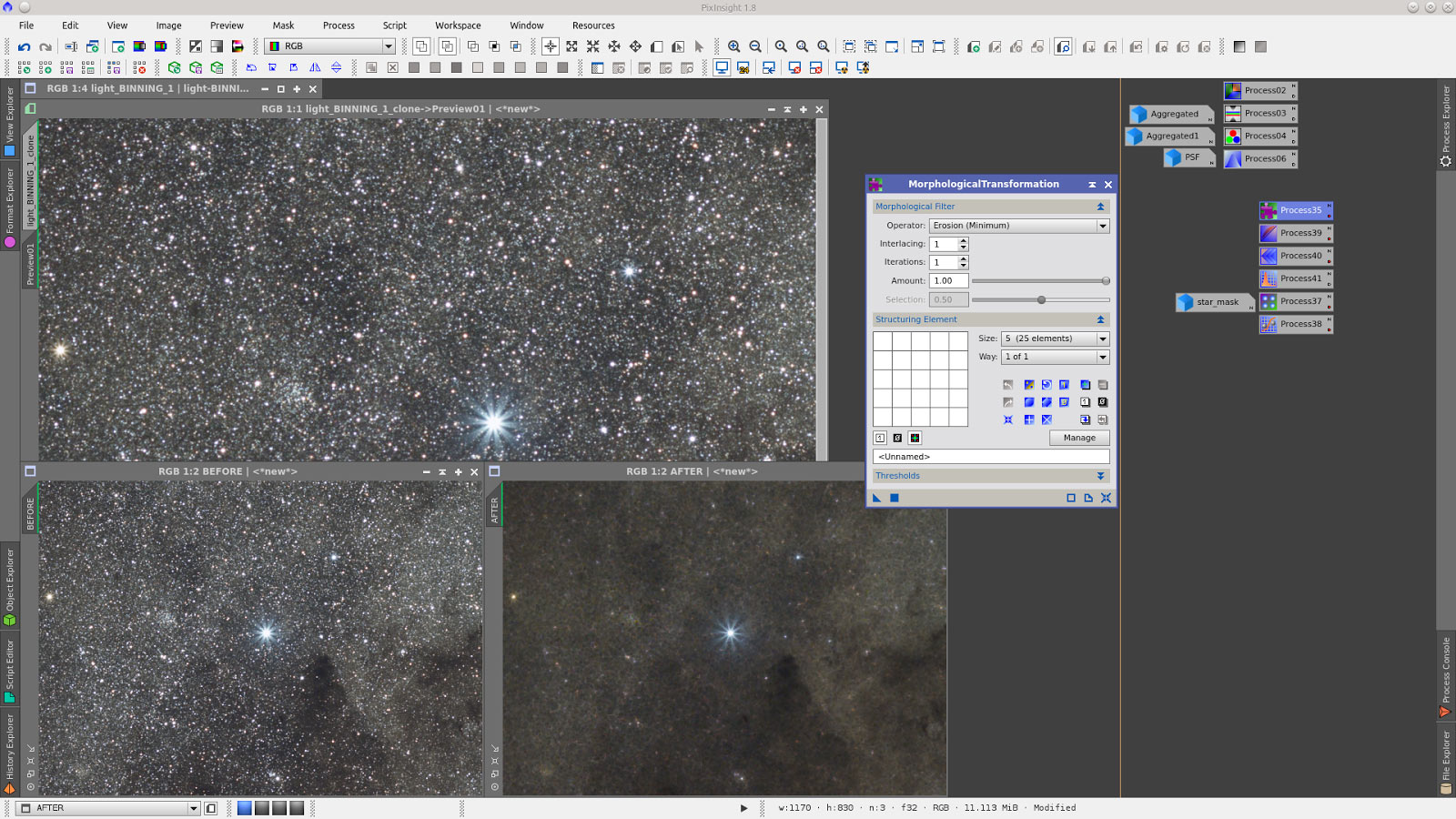 Gamma Stretch.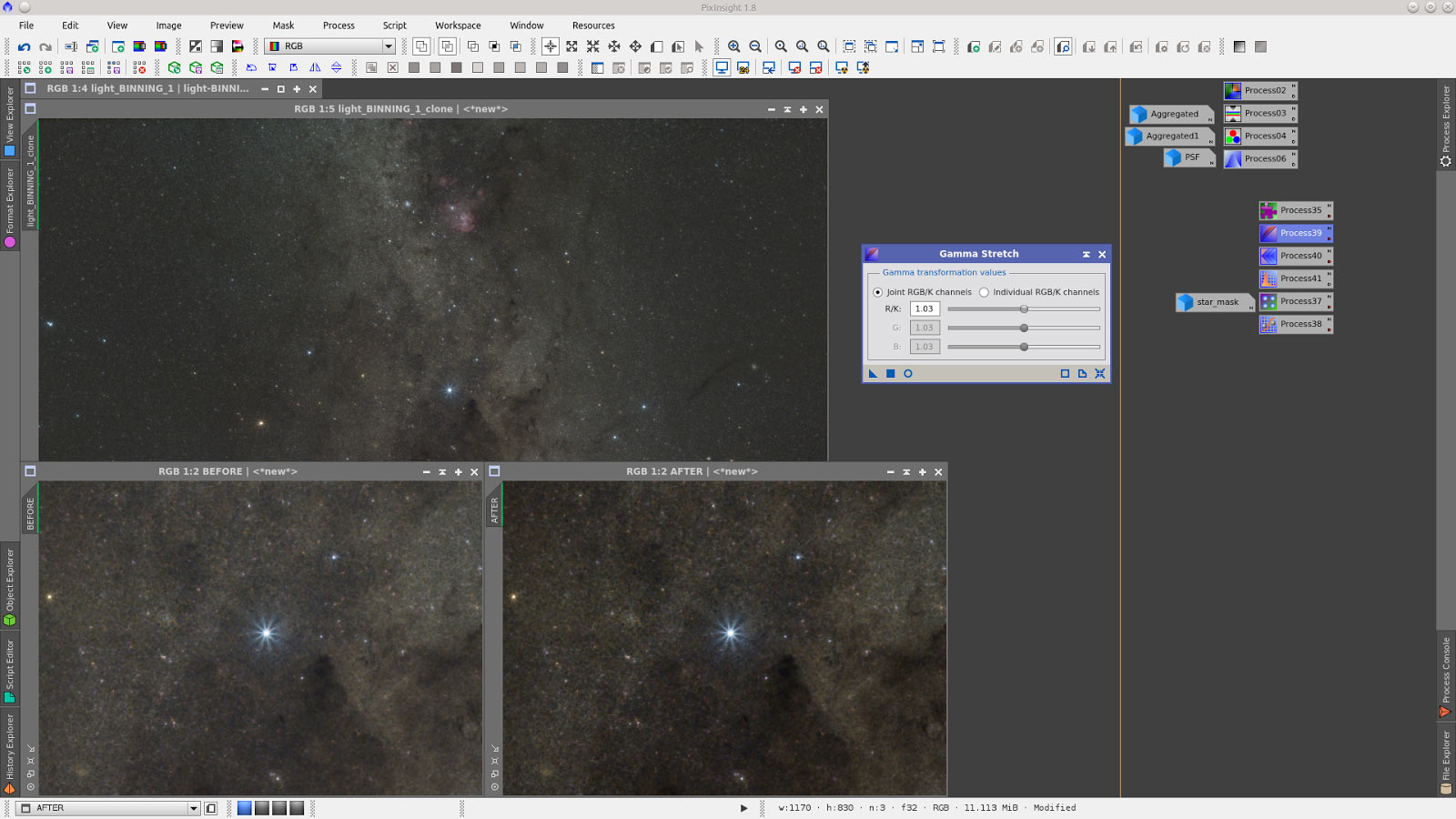 Smooth with ATrousWaveletTransform.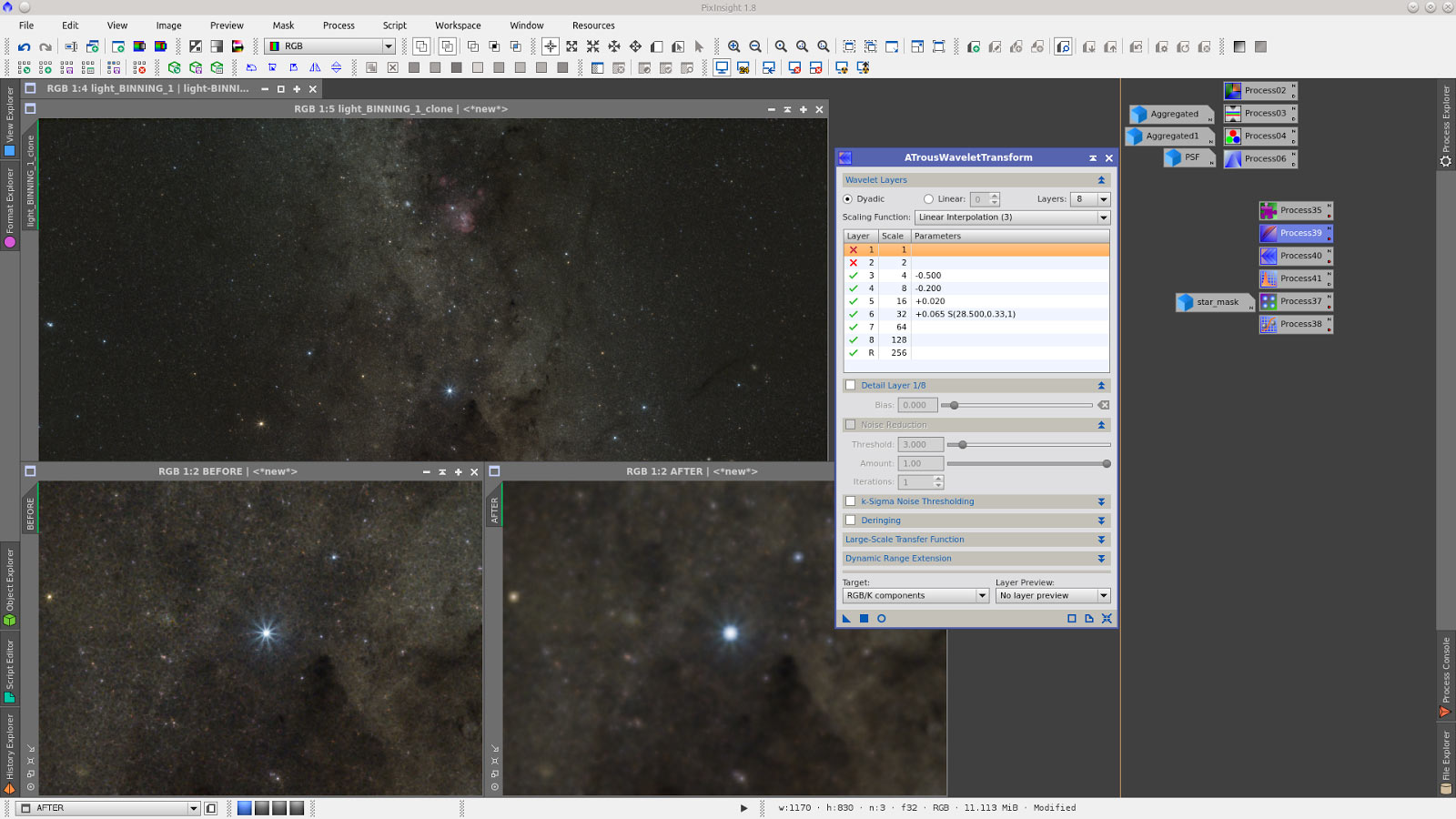 Stretch with HistogramTranformation Tool.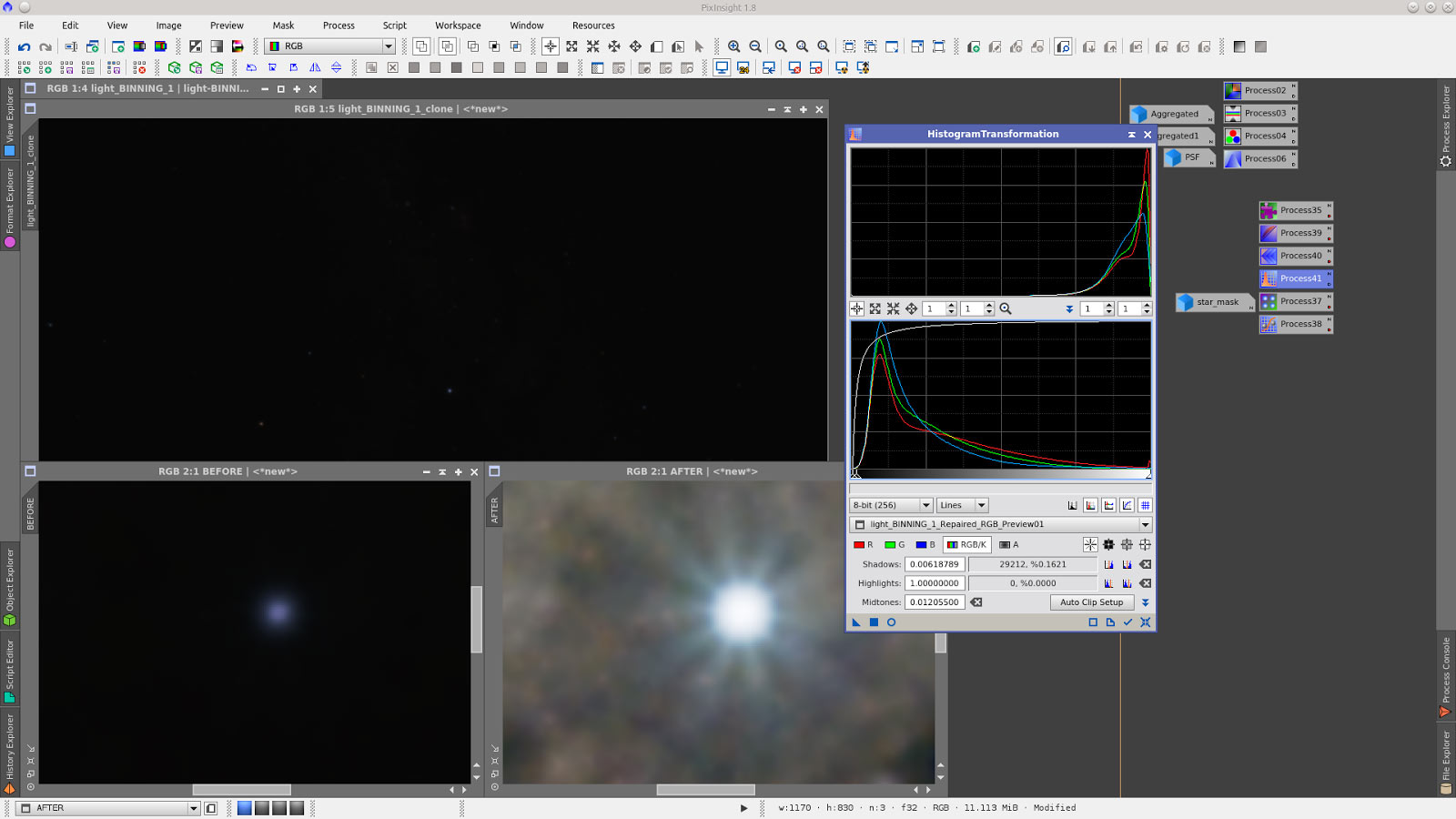 Generate StarMask over the clone.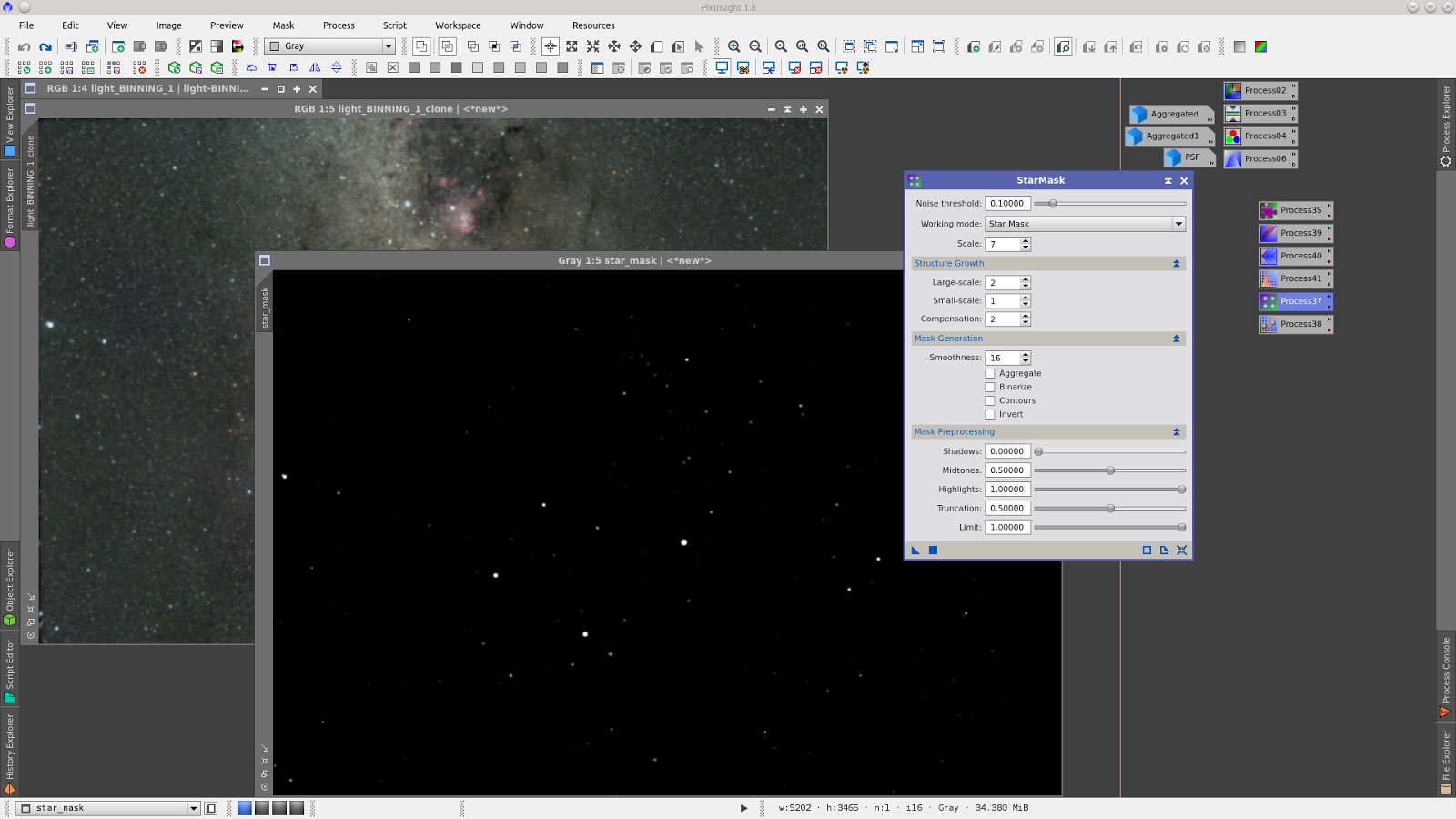 Stretch of the StarMask with AdaptiveStretch.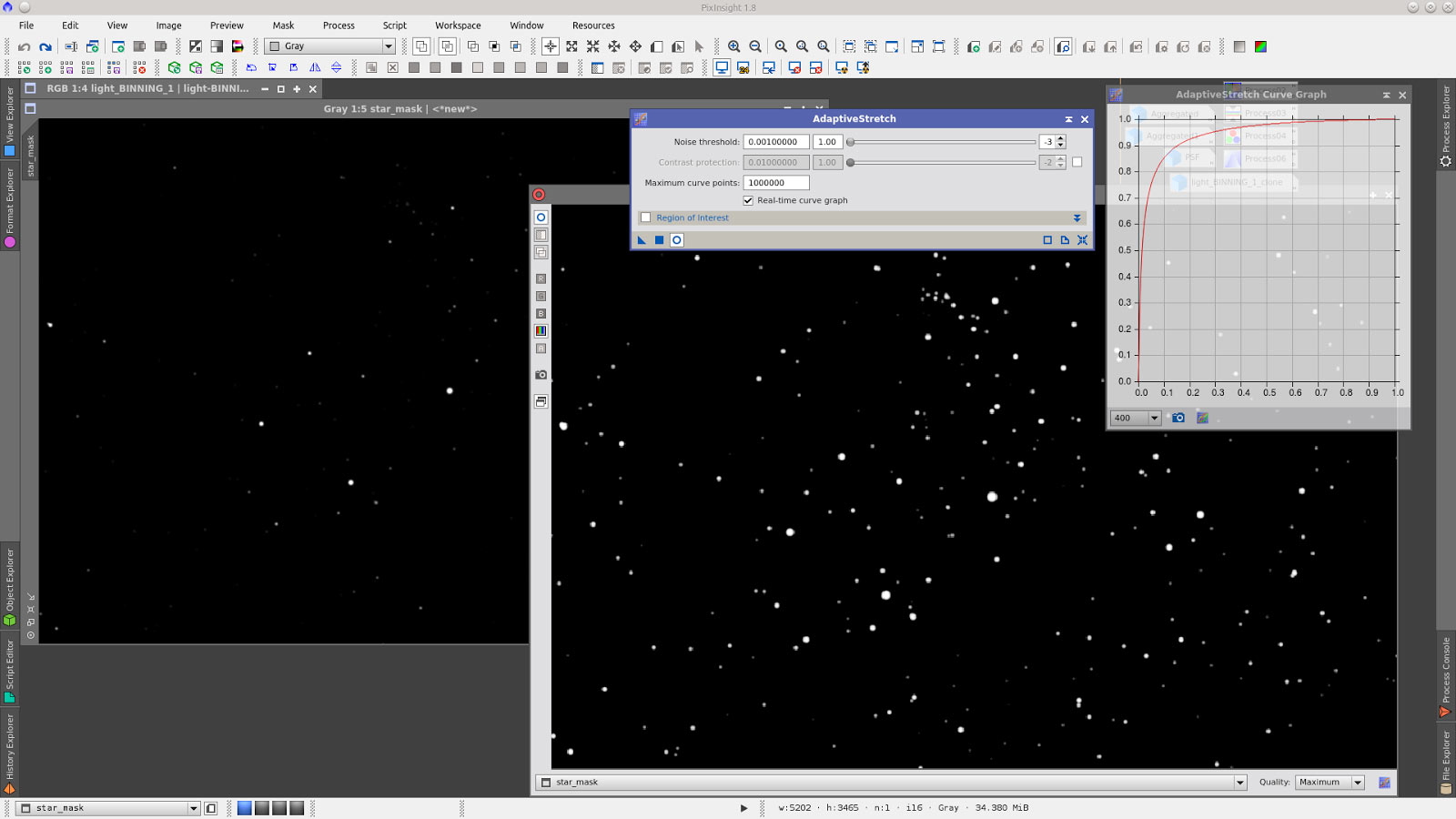 Deconvolution.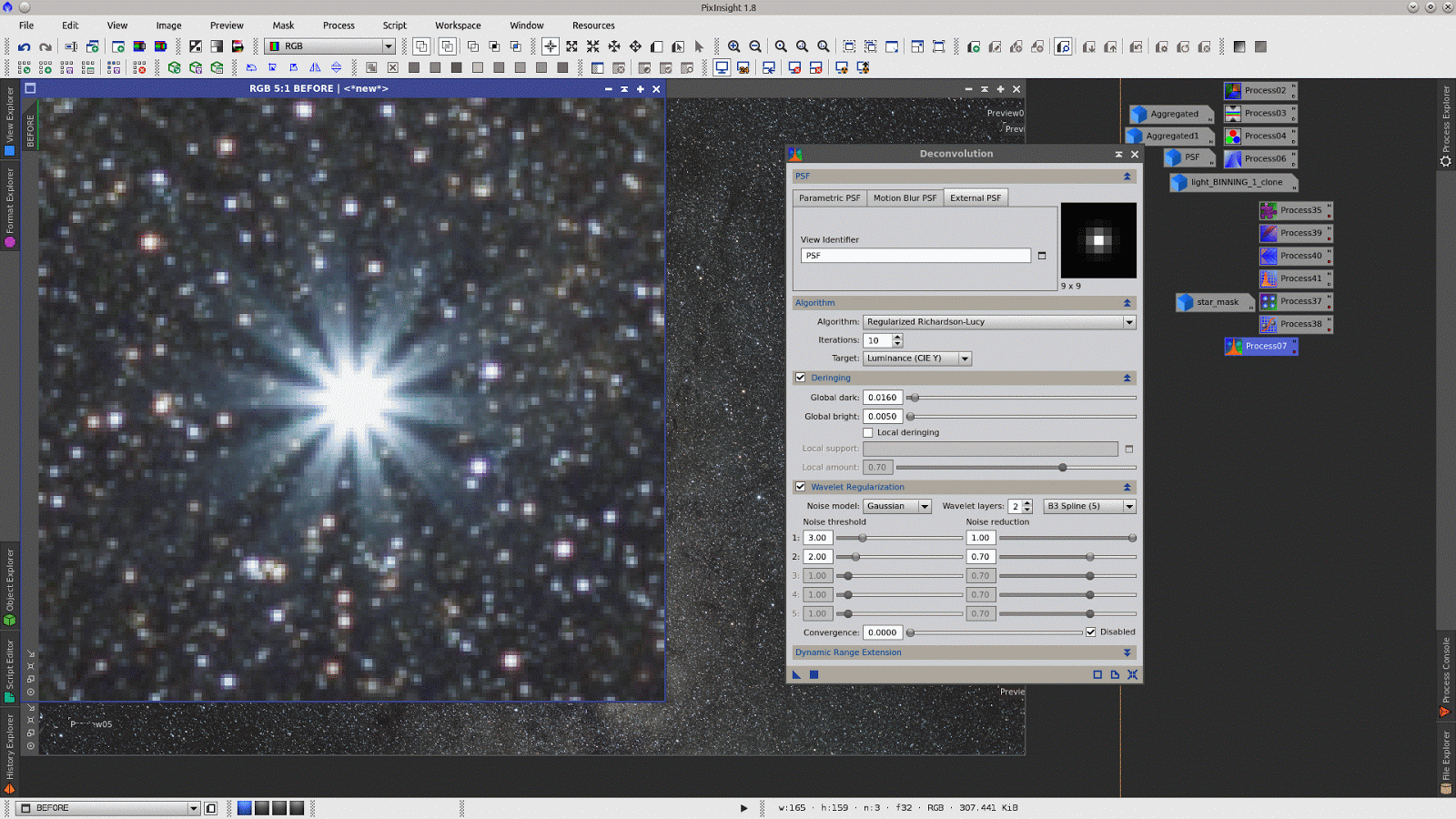 Apply Repaired HSV Separation Script with default values to recover color in stars.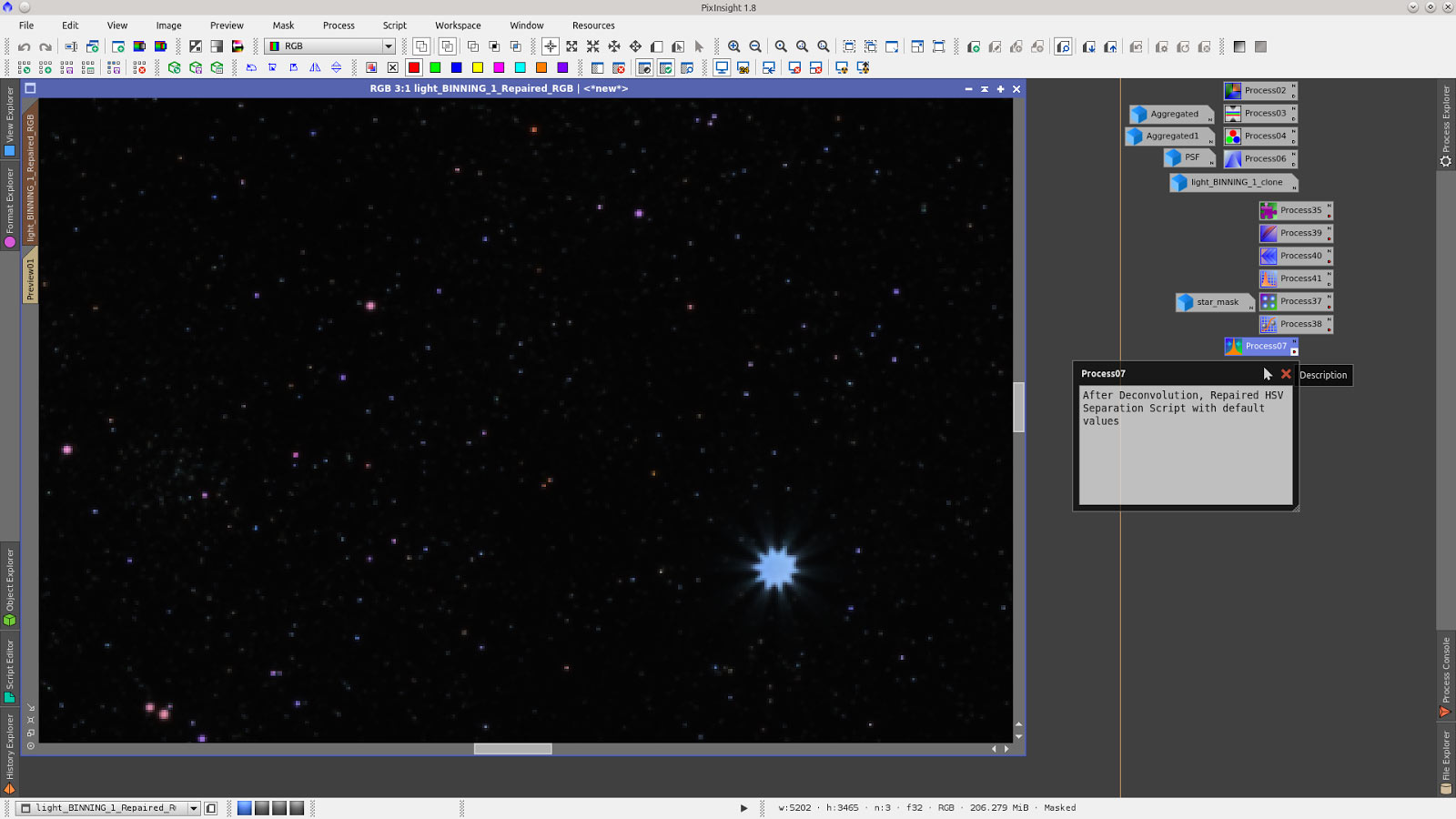 More definition to stars and a little of noise reduction with ATrousWaveletTransform tool.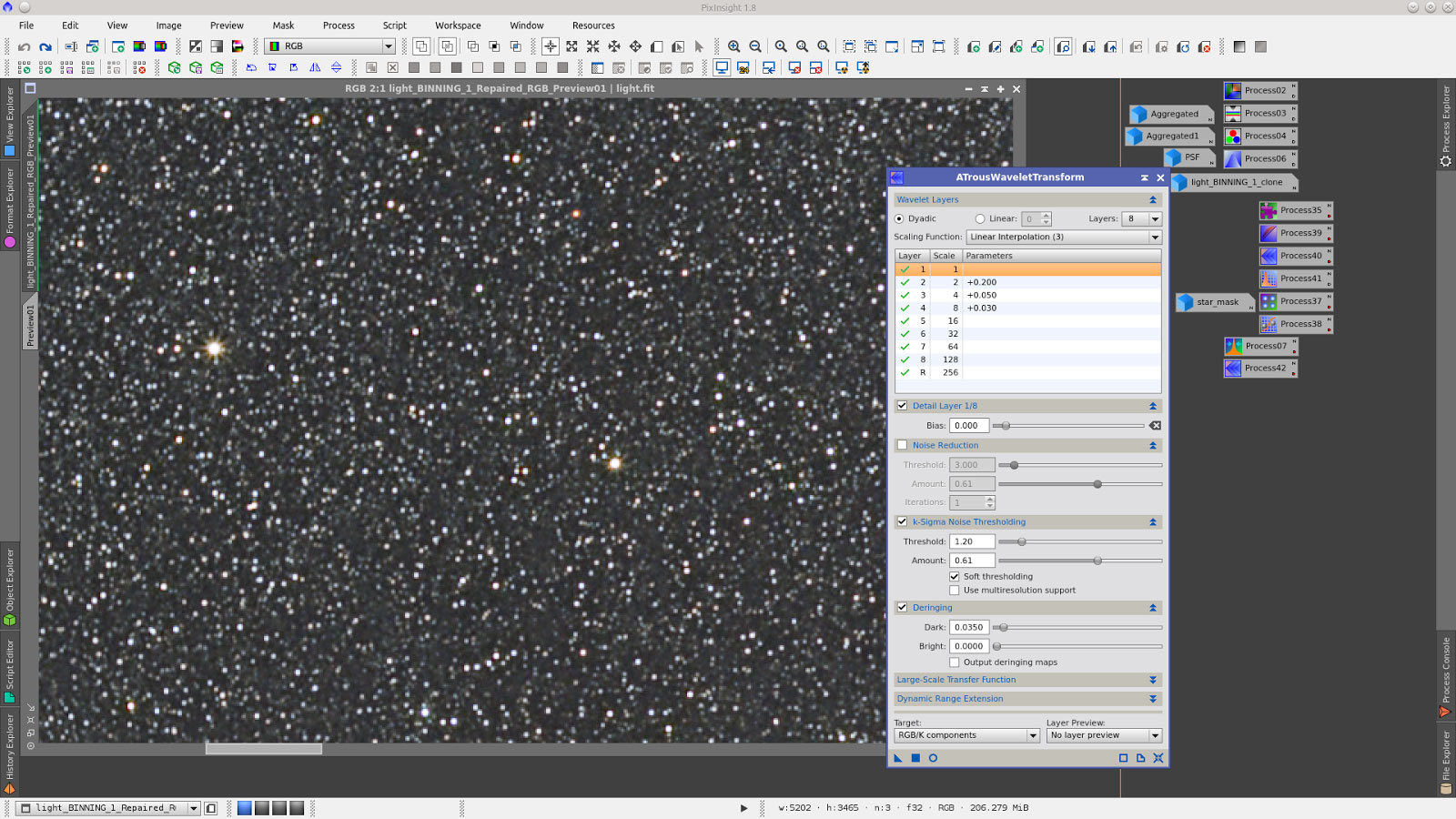 MaskedStretch using a small preview as Background reference.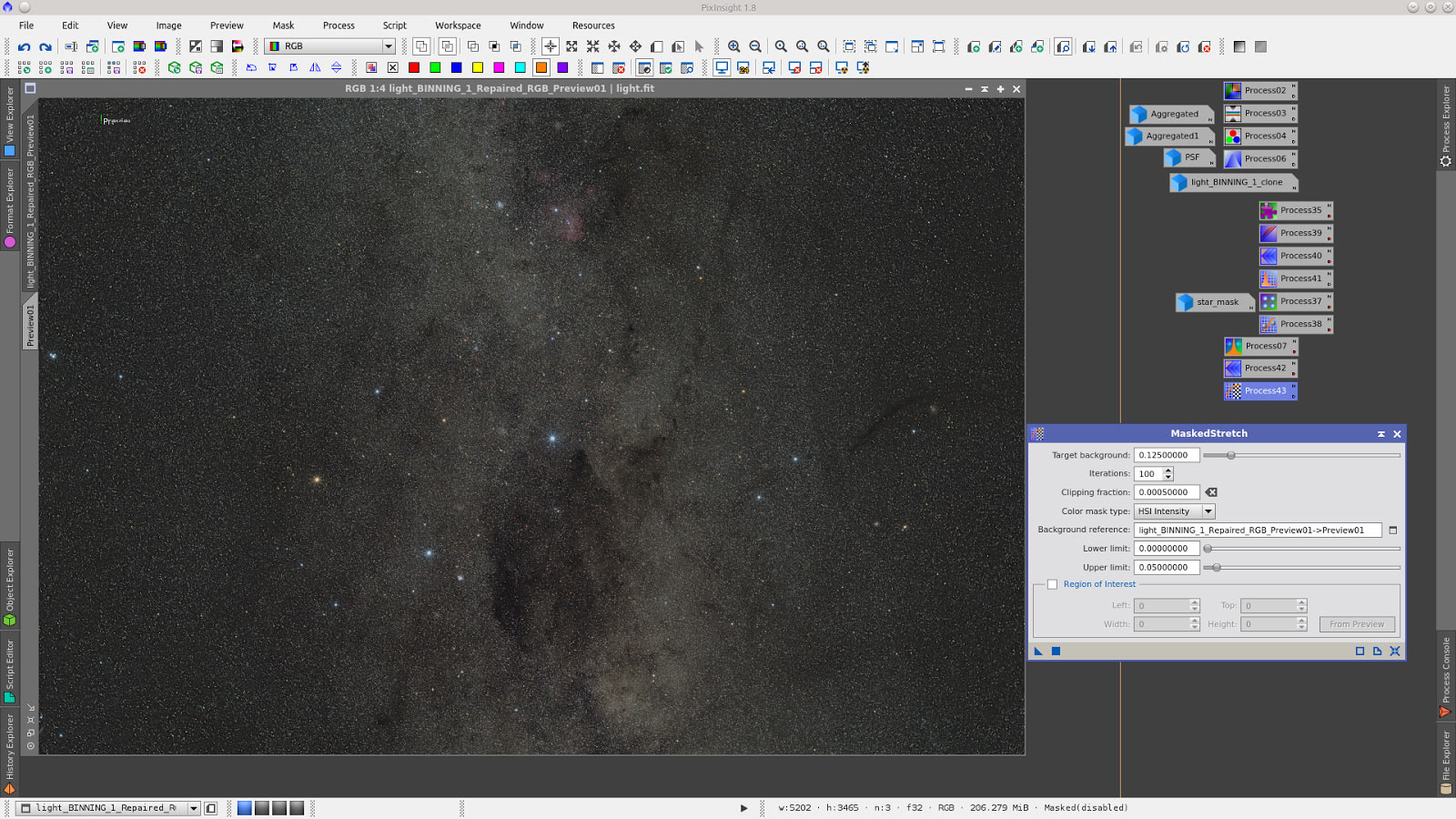 ColorSaturation protecting bright areas with Light_BINNIG_1_clone as mask.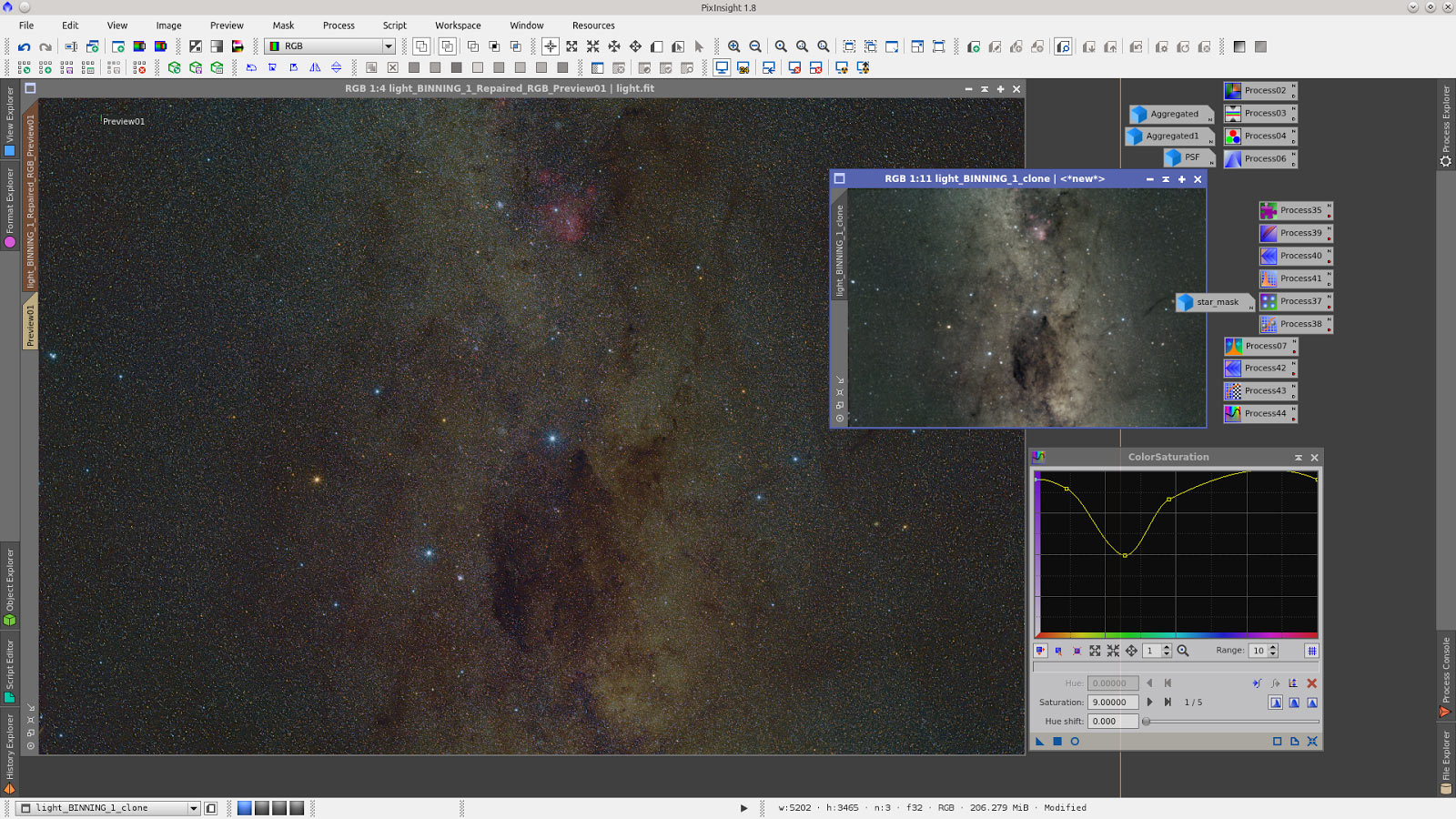 Invert the mask to protect background.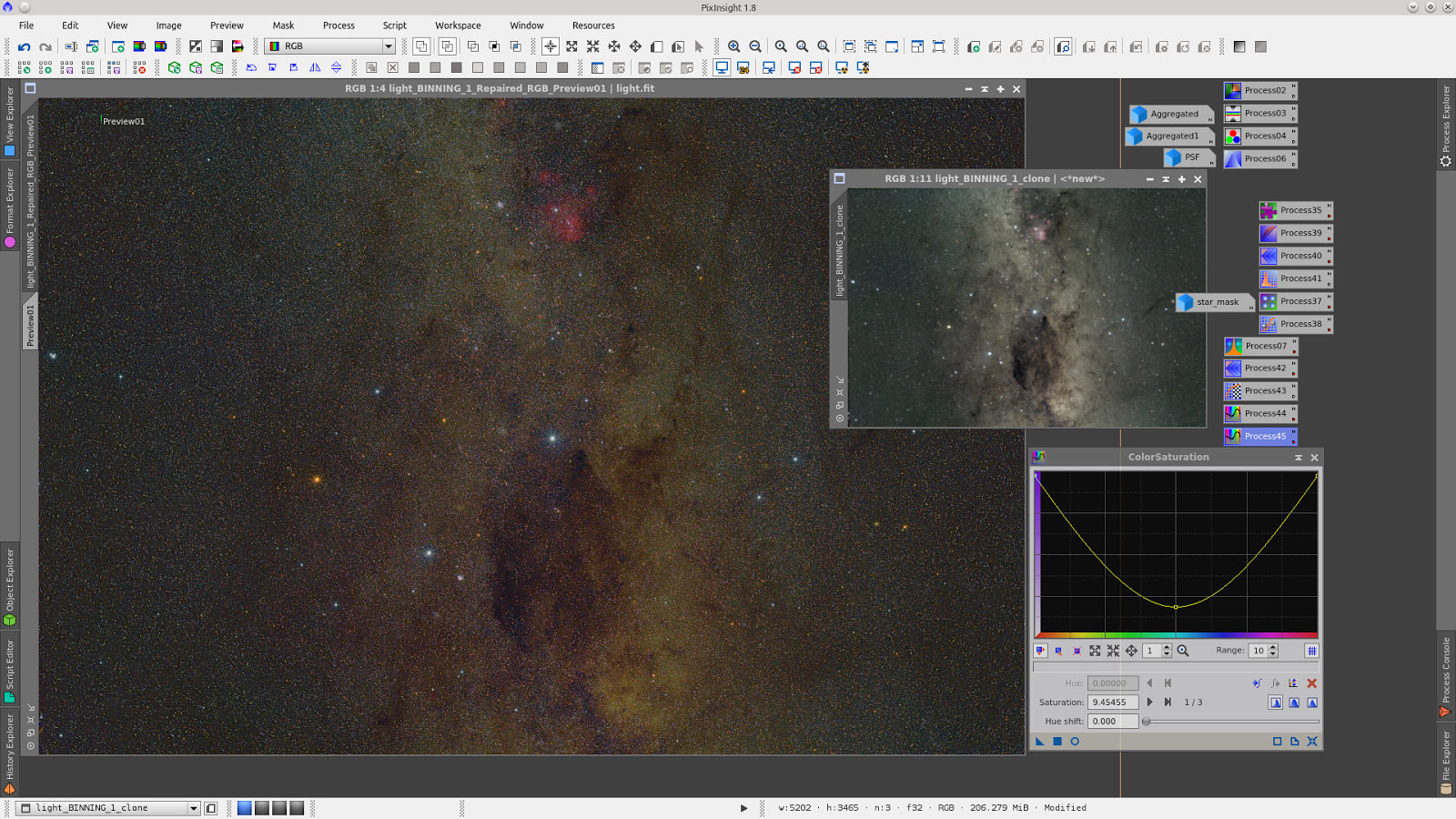 Saturation increased noise in chrominance that can be removed with ACDNR tool applying only to Chrominance.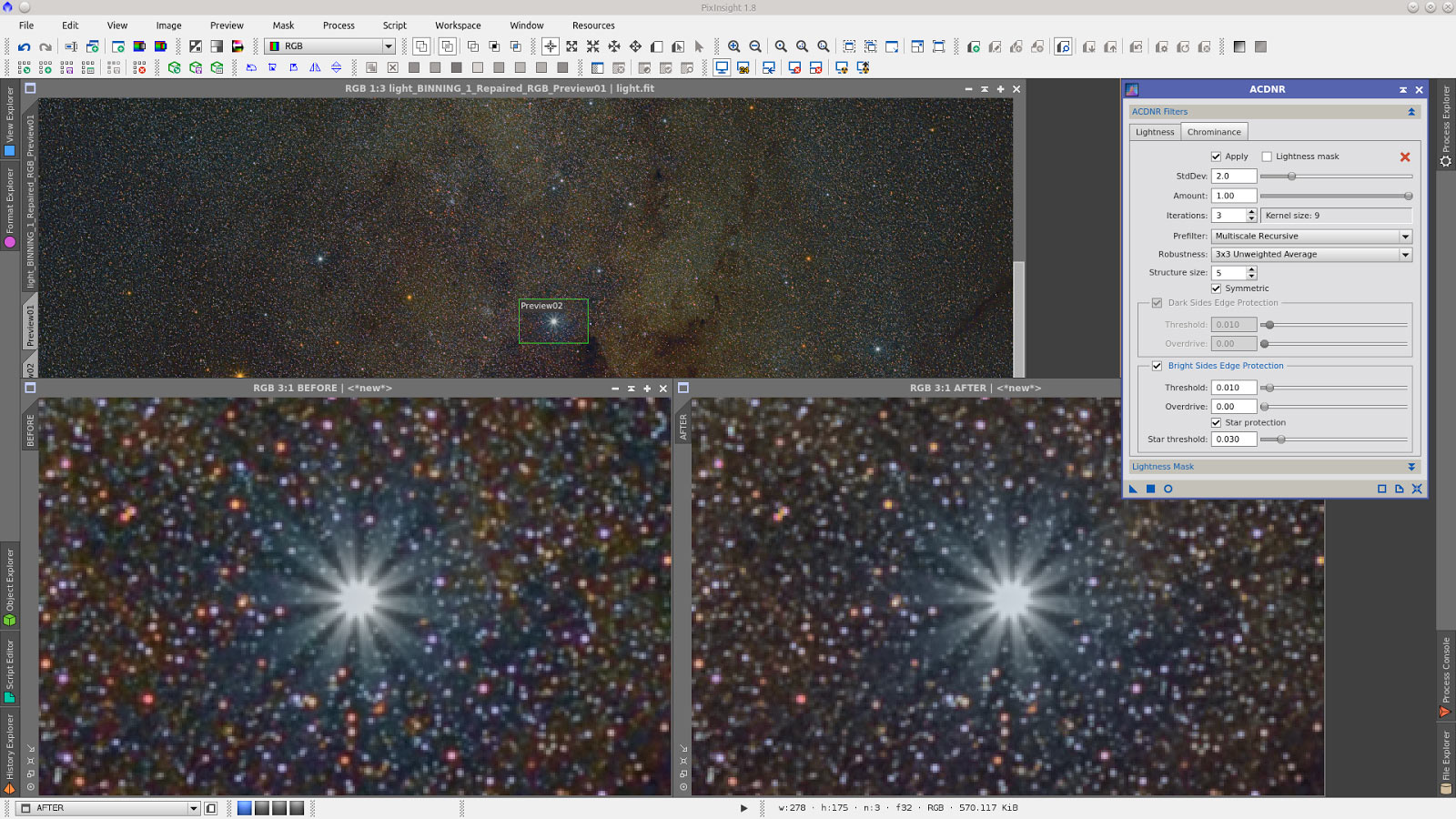 More noise reduction to chominance by layer in scale of 4 to 16 pixels.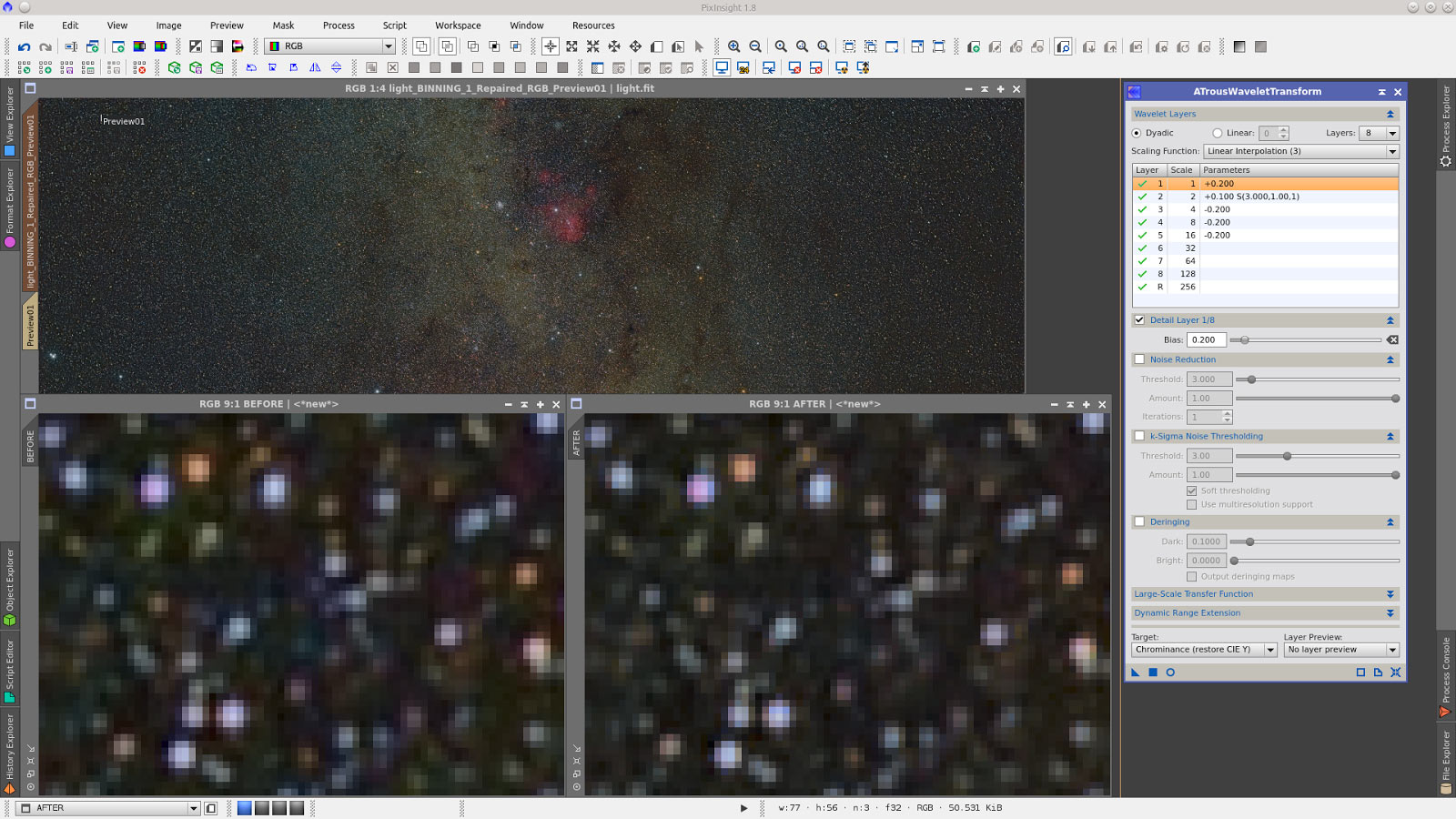 Protecting dark areas with light_BINNING_1_clone as mask increase luminance using Saturation as Reference Channel in InterChannelCurves tool.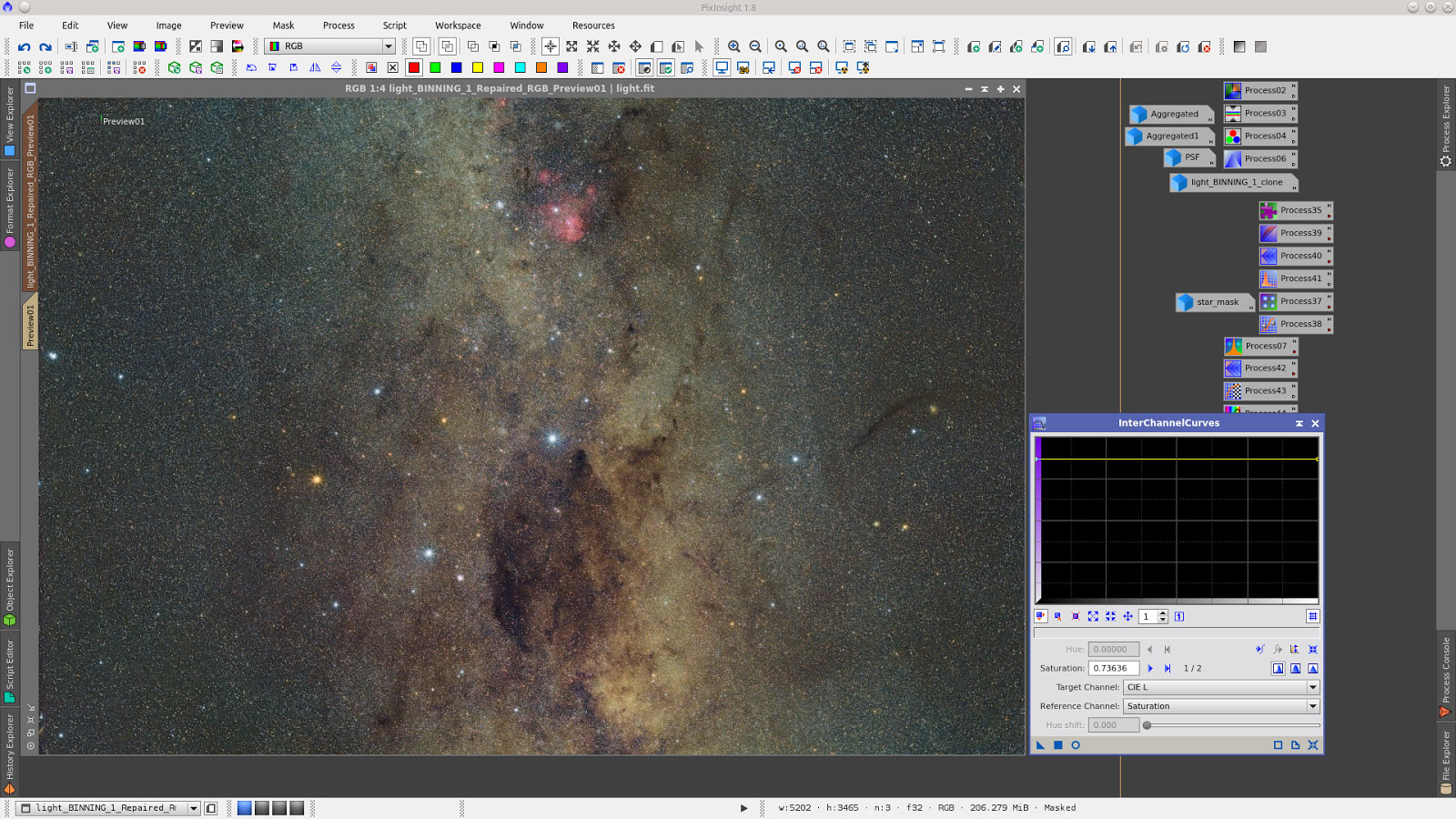 Invert the mask and Gamma Stretch to reduce the bright in the background.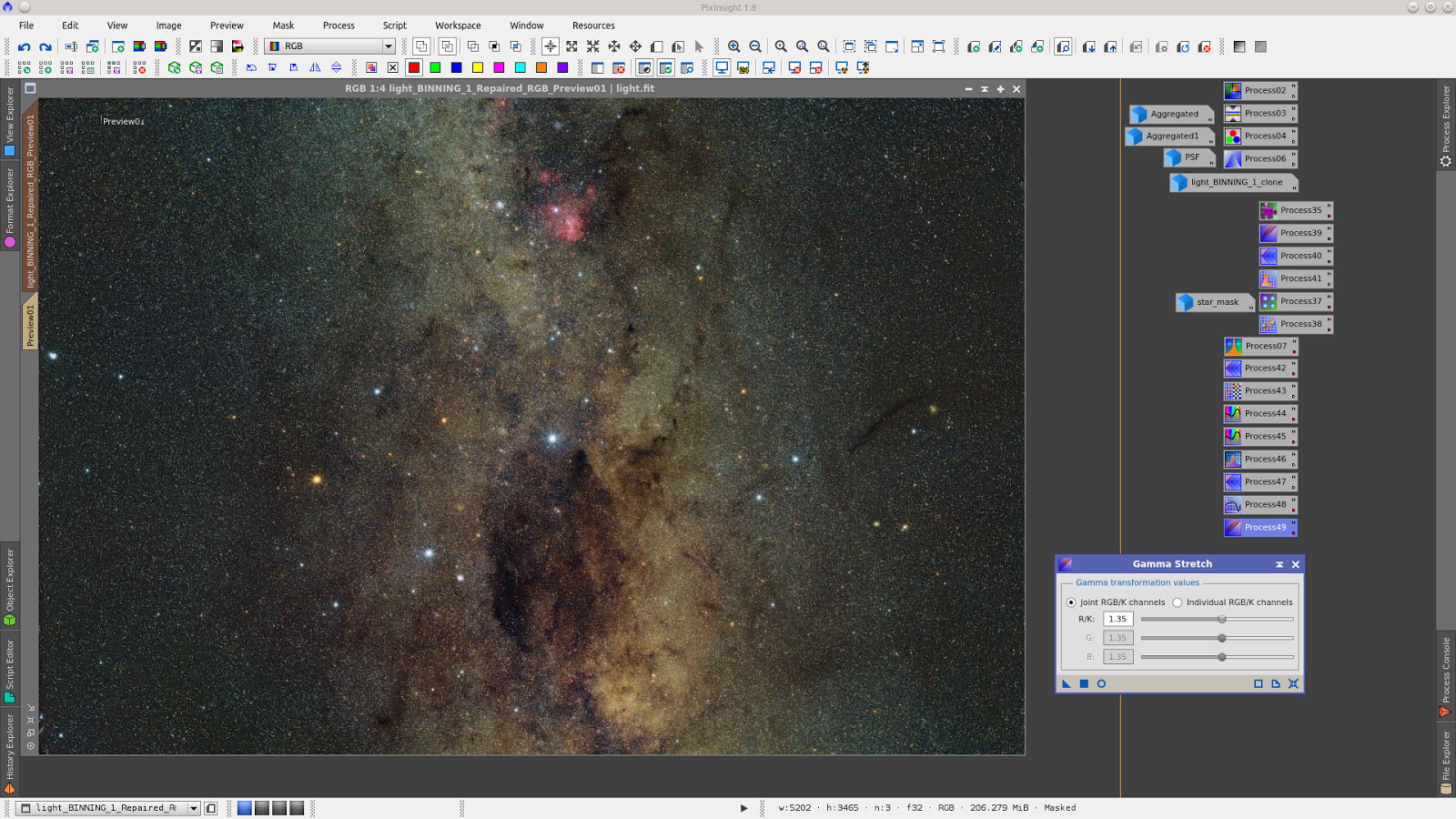 Extract Luminance and use as mask to protect the galaxy while applying SCNR to reduce green.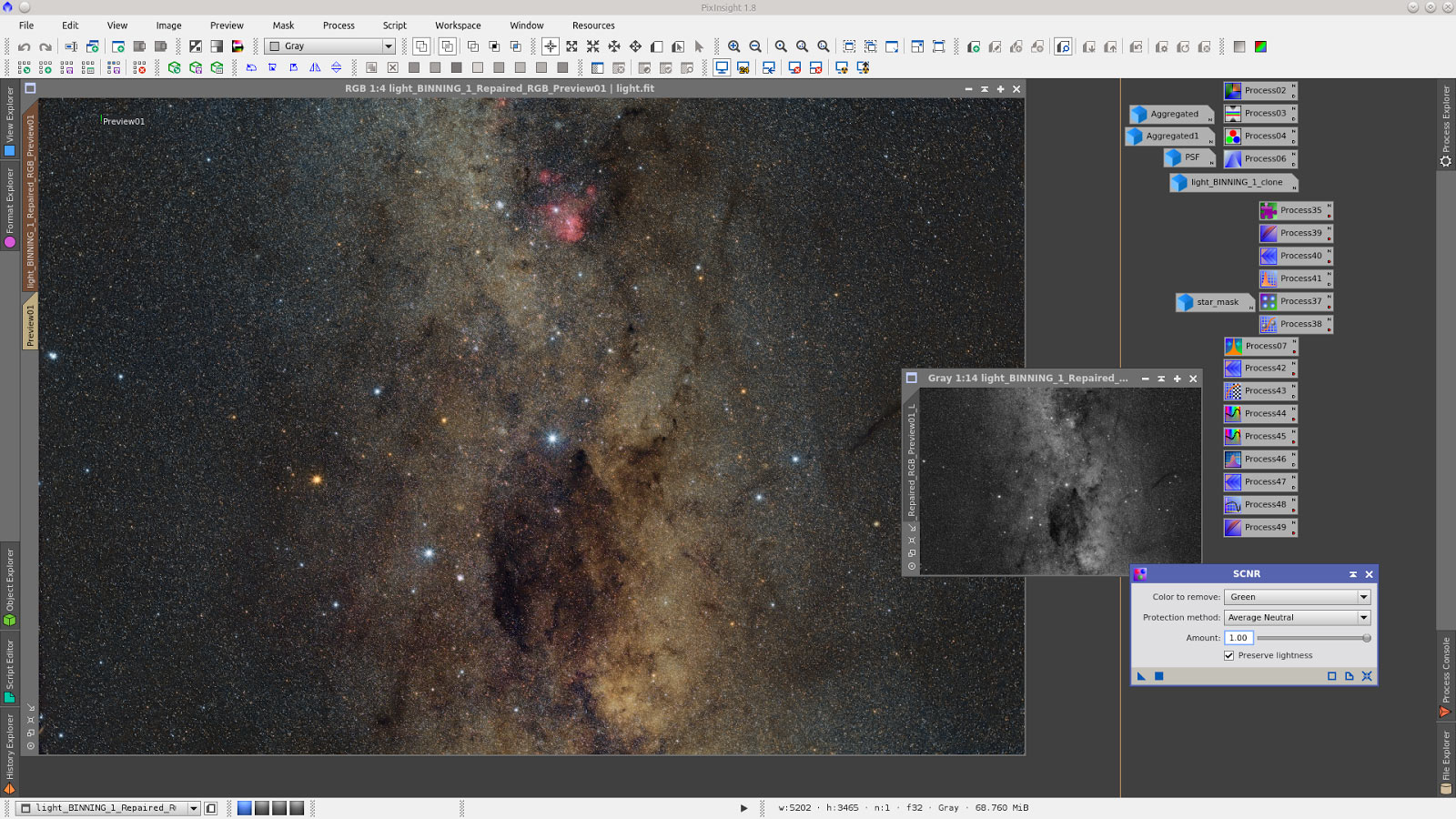 Protecting with L mask apply LocalHistogramEqualization to obtain more contrast.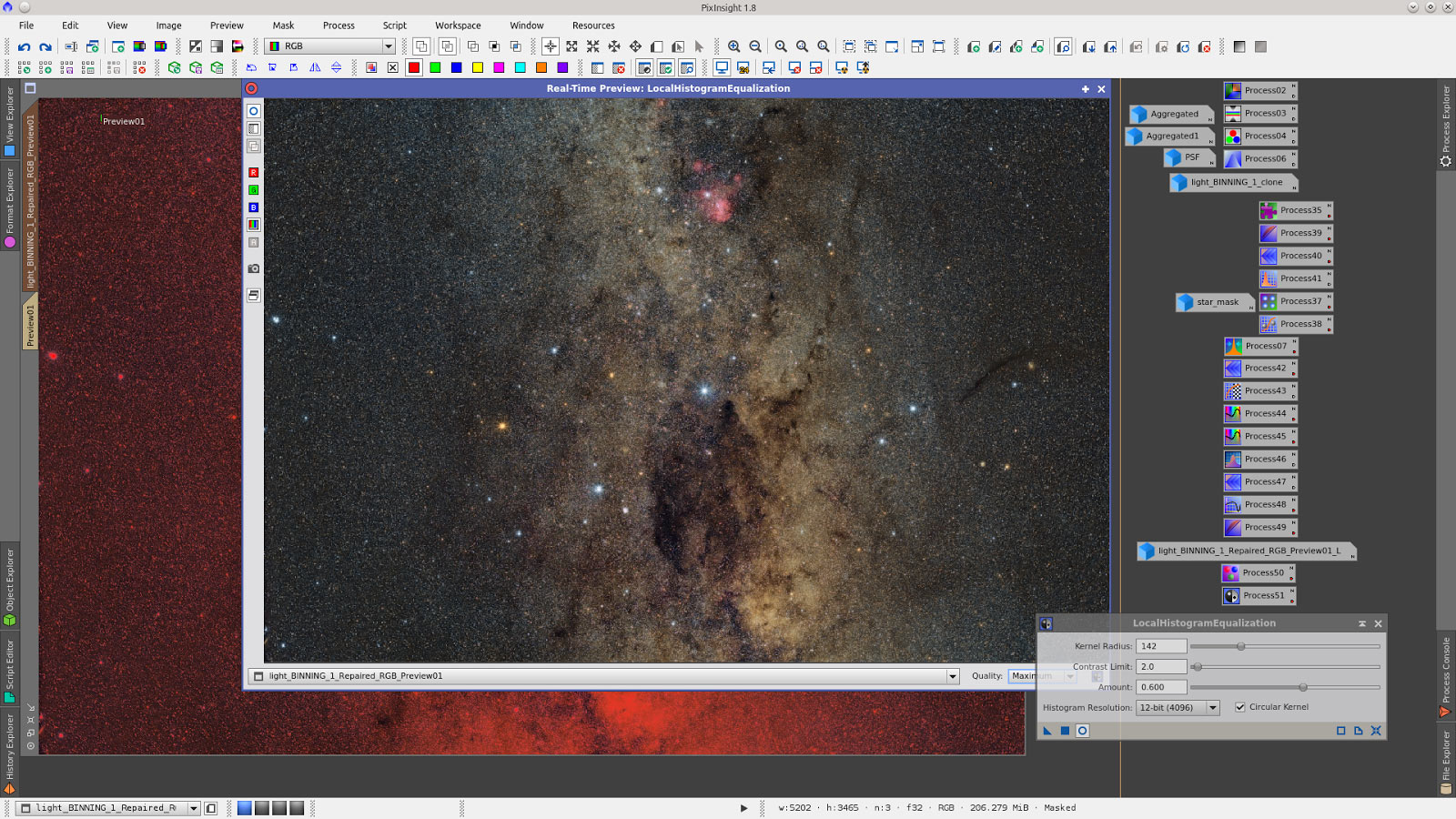 Build a new mask. Extract Z channel, generate a Range mask over it using RangeSelection tool and stretch using HistogramTransformation Tool.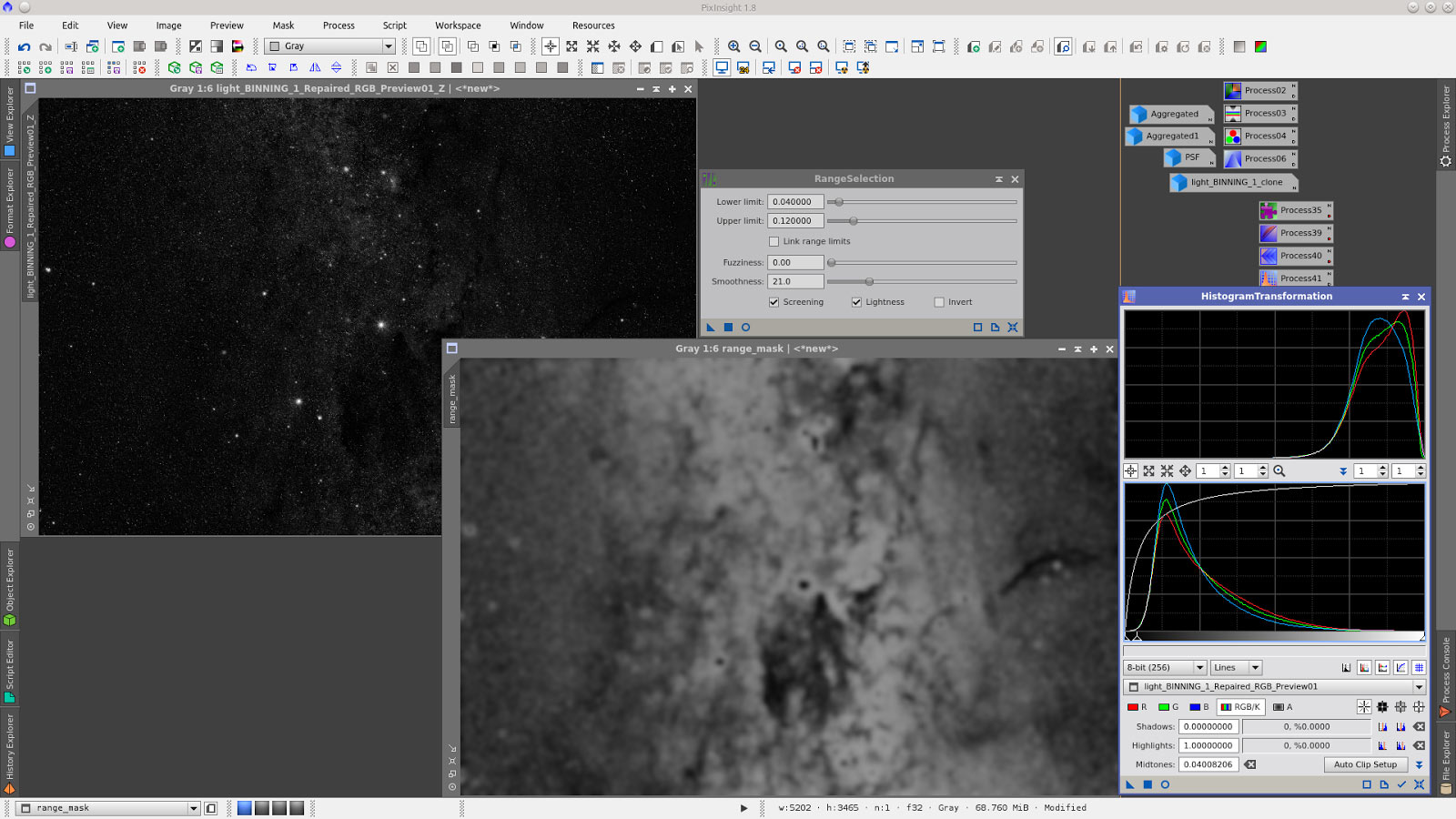 Finally multiply Lmask*RangeMask to generate the mask to be used.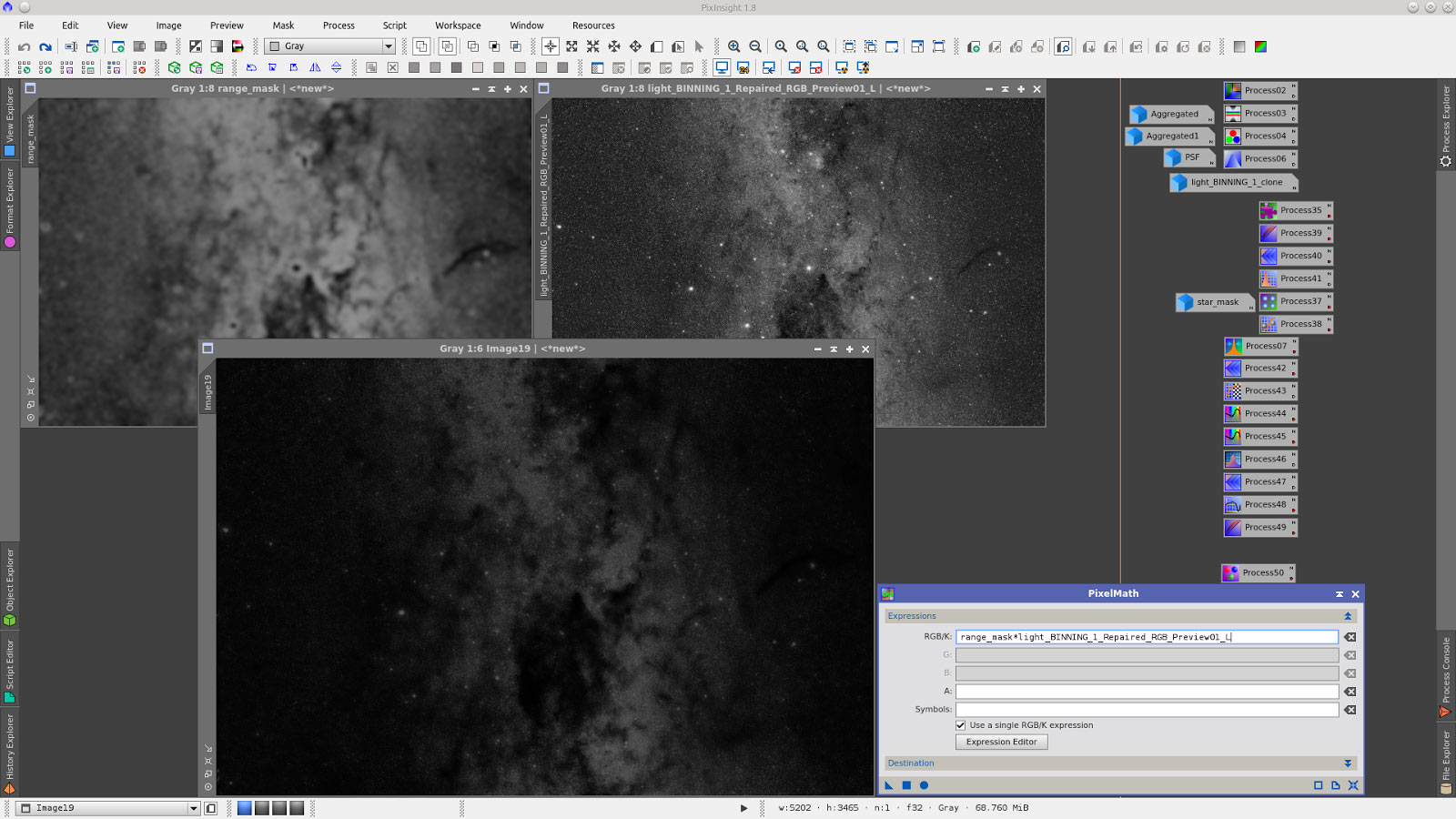 Protecting background with Image19 increase color and Saturation in the galaxy using CurvesTransformation tool.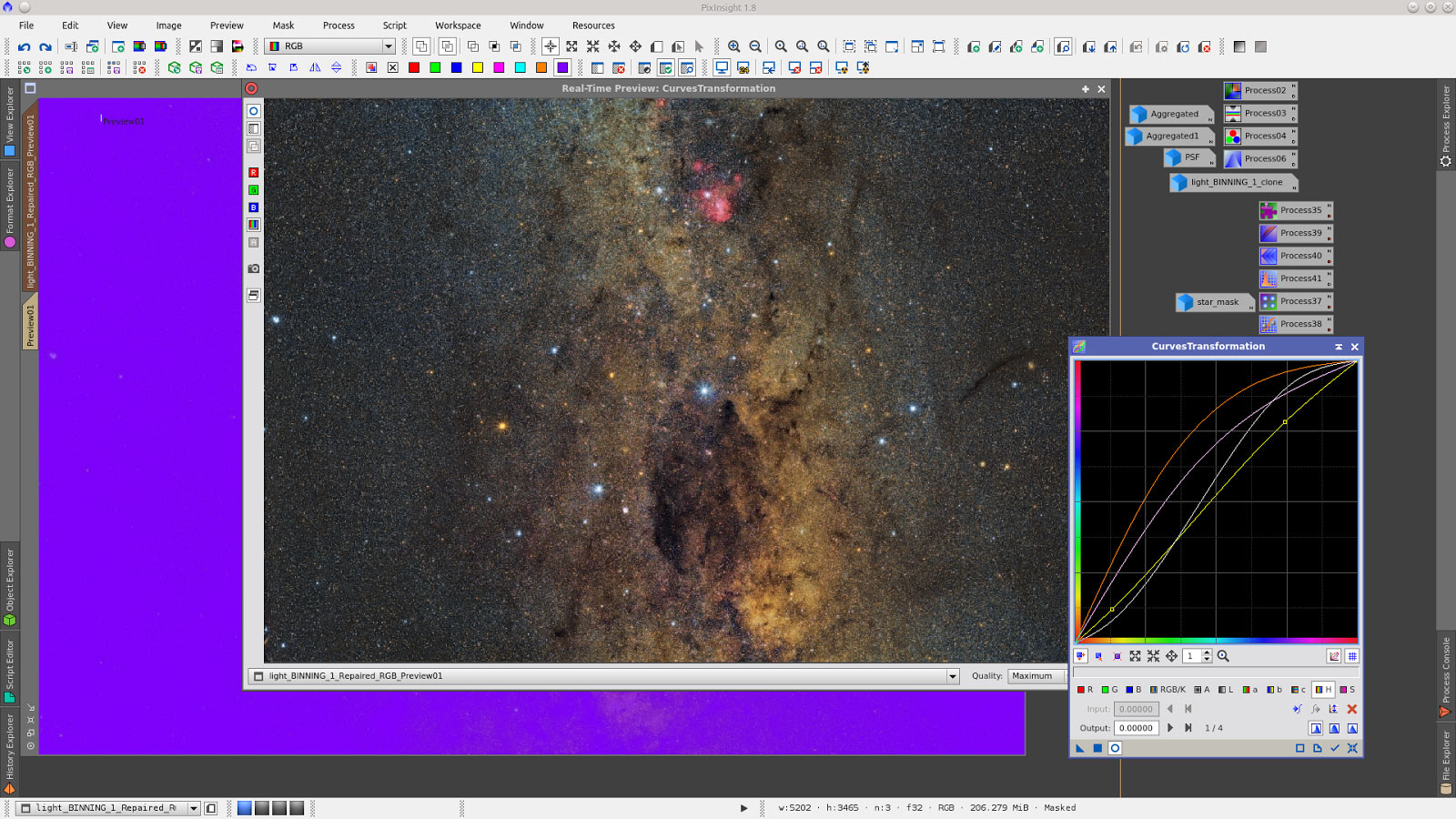 More contrast protecting with Image19 and using LocalHistogramEqualization tool.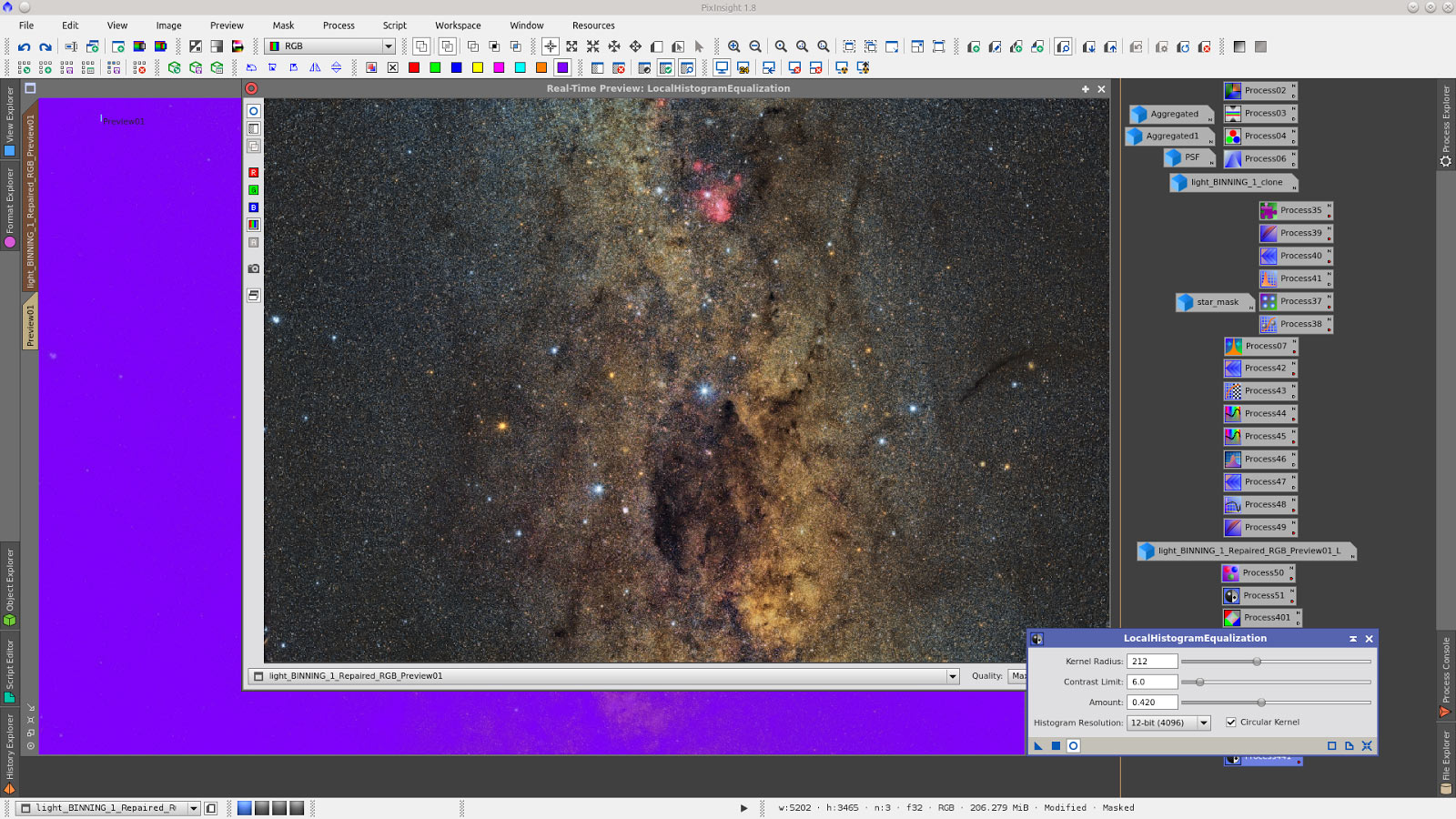 Noise reduction to green using SCNR and protecting the galaxy.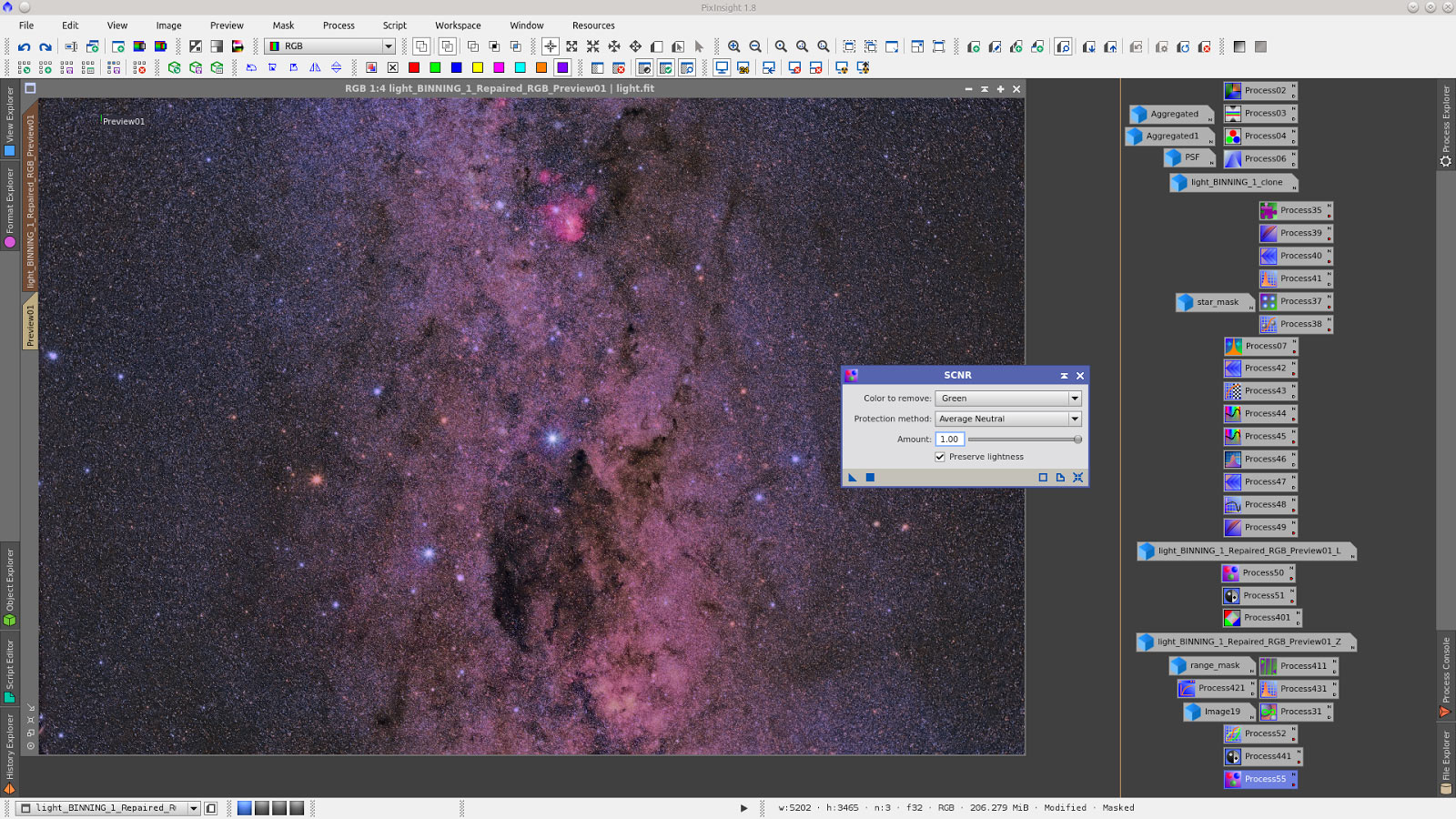 Apply HistogramTransformation tool to the mask (Image19) to have better protection and using Gamma Stretch tool decrease the brightness of the background.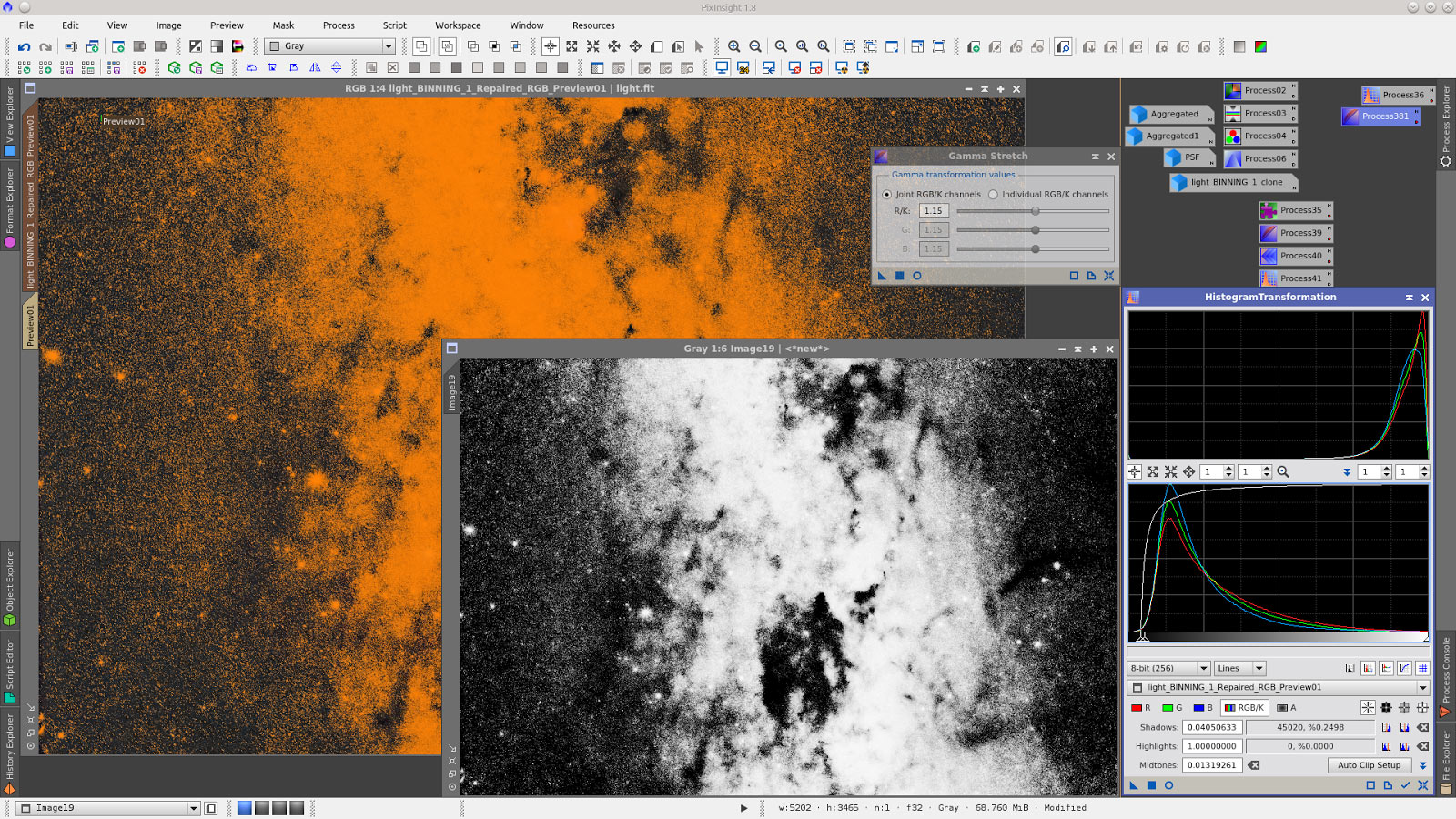 CurvesTransformation protecting background.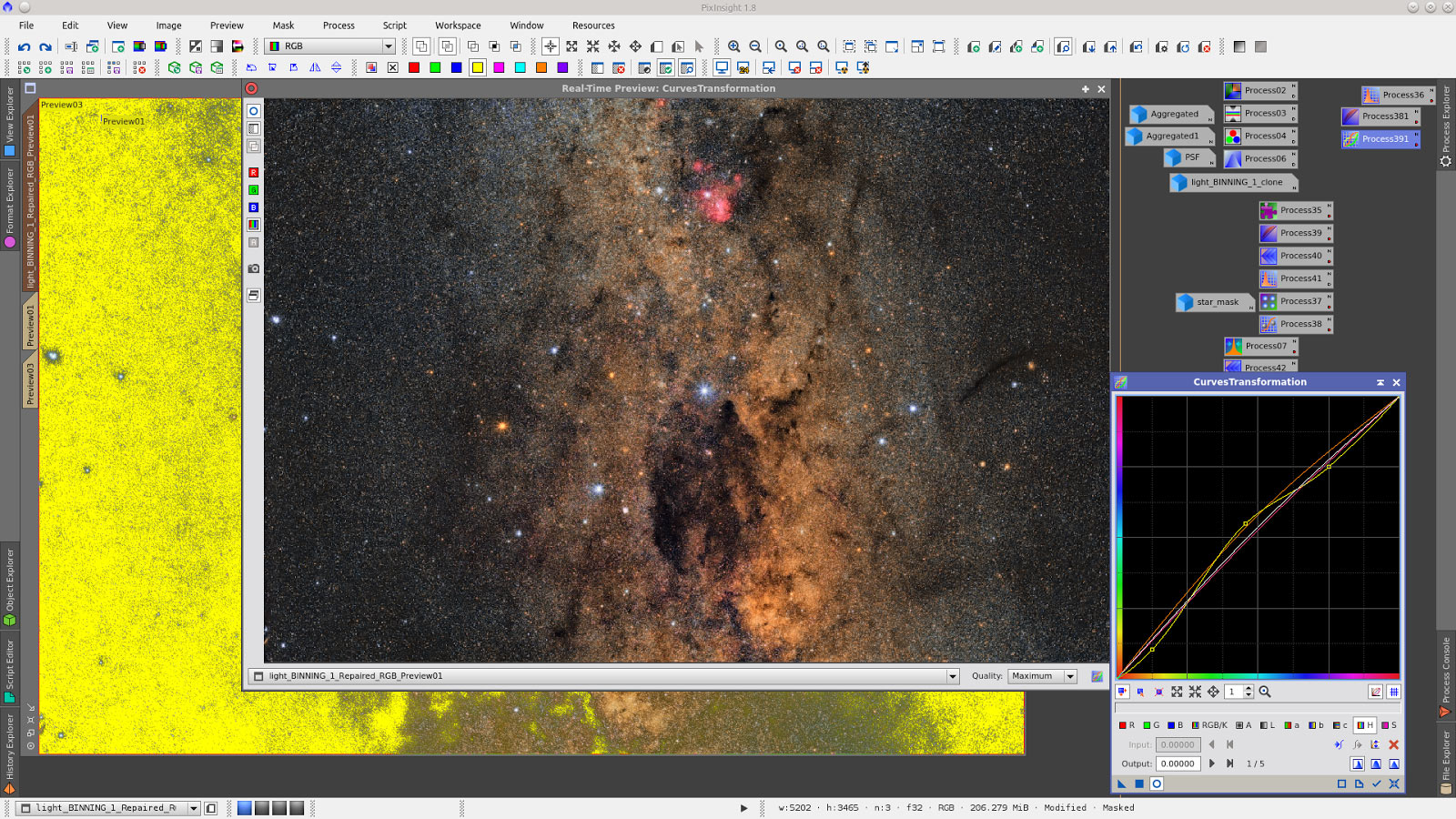 Noise reduction to green.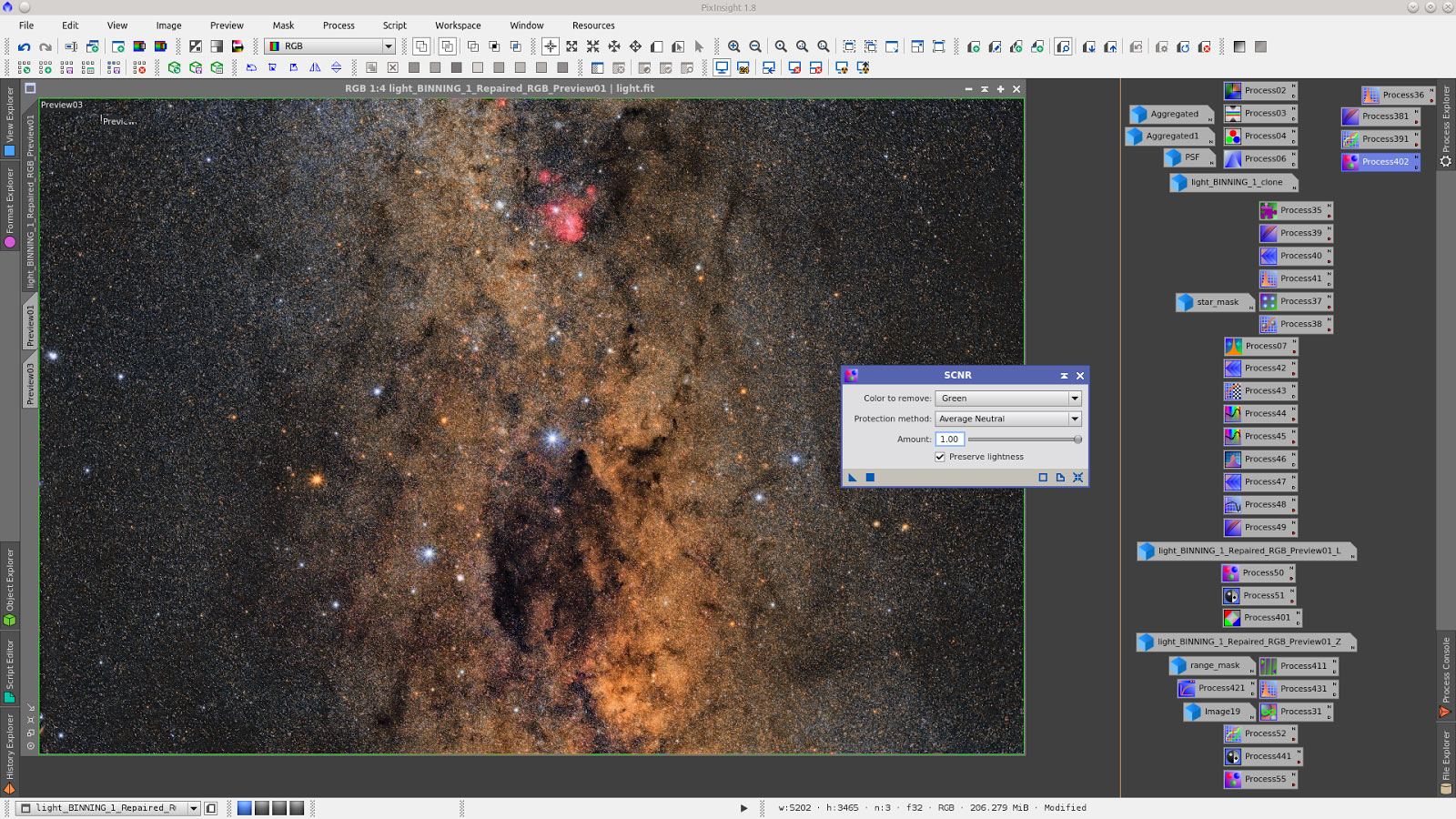 Final Image.
Last Update: 27/11/2023 03:43 UT